Malaysia dah jadi negara polis kot...
Adakah Malaysia sudah menjadi negara polis apabila pihak polis tidak boleh ditegur sehingga Ketua Polis Negara (KPN) Tan Sri Khalid Abu Bakar dengan angkuhnya memberi amaran kepada Ahli Parlimen Kulai, Teo Nie Ching, supaya tutup mulut hanya kerana bertanya mengapa siasatan lambat dibuat?
Tindakan KPN memberi amaran terhadap Teo Nie Ching, semata-mata kerana wakil rakyat tersebut mendesak polis menjalankan siasatan segera berhubung satu dakwaan ugutan terhadap pemimpin Bersih 2.0, membuktikan kebebasan bersuara yang sudah pun terhad di Malaysia kini semakin terhakis.
Teo Nie Ching hanya menjalankan tugasnya sebagai Ahli Parlimen yang menuntut keadilan dilaksanakan berikutan ugutan oleh ketua kumpulan Baju Merah, Mohd Ali Baharom yang mengancam nyawa Pengerusi Bersih 2.0. Maria Chin Abdullah. Teo Nie Ching membuat kenyataan beliau kerana mendapati pihak polis belum berbuat apa-apa selepas ugutan tersebut dibuat secara terbuka.
Semata-mata menyuarakan pandangannya, Teo Nie Ching diberi amaran keras agar tidak mencampuri urusan polis serta tidak mempolitikkan isu tersebut. Saya tidak faham apa yang tidak boleh dicampuri dan apa yang dikatakan dipolitikkan. Ahli Parlimen adalah wakil kepada rakyat dan beliau berhak bersuara. Apakah Ahli Parlimen hanya perlu membisu apabila melihat ugutan, ancaman dan hal-hal jenayah berlaku di depan mata?
Begitu juga dengan kes Ahli Parlimen Jelutong, Jeff Ooi, yang terlibat dalam isu tweet tentang kematian Mursyidul Am PAS, Datuk Dr Haron Din. Saya sendiri telah membuat teguran terhadap tweet Jeff Ooi sebagai tidak sensitif dan melahirkan perassan kesal kepada keluarga Allahyarham.
Namun, apabila KPN mengeluarkan kenyataan bahawa Jeff Ooi "mulut gatal" dan menuntut agar Jeff Ooi menyerah diri atau menghadapi tindakan polis, ia menggambarkan seolah-olah berlaku jenayah besar. Apakah tweet yang "tidak sensitif" atau seorang yang "mulut gatal" sudah menjadi jenayah besar di Malaysia? KPN juga dilaporkan mengatakan bahawa Jeff Ooi akan disiasat di bawah Seksyen 298 Kanun Keseksaan yang berkaitan dengan sesuatu yang menimbulkan kebencian atau berniat jahat untuk menjejaskan keharmonian.
Disamping itu, tindakan oleh KPN bersifat double-standard. Persoalannya, mengapa tindakan polis dan layanan yang sama tidak dikenakan terhadap Ahli Parlimen Langkawi, Datuk Nawawi Ahmad? Apa yang Datuk Nawawi lakukan jauh lebih teruk. Nawawi telah mengaitkan identiti "Malaysian Official 1" atau MO1 yang dituduh terlibat dalam pencurian dana 1MDB oleh Jabatan Kehakiman Amerika Syarikat (DOJ), dengan Yang di-Pertuan Agong.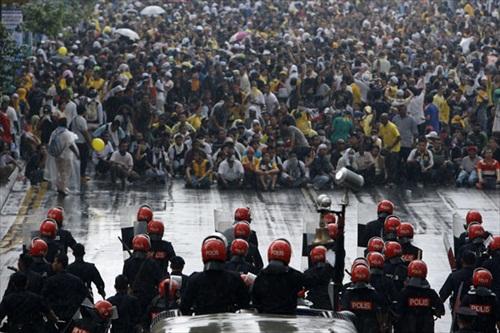 Yang di-Pertuan Agong adalah Raja dan Ketua Negara Malaysia yang tidak boleh dihina, dituduh atau dipermain-mainkan. Ia adalah jaminan Perlembagaan Persekutuan. Tetapi martabat dan peranannya YDPA telah dihina sebagai MO1 yang terlibat dalam skandal 1MDB. Skandal 1MDB terjijik yang mencuri wang rakyat Malaysia sehingga kerajaan Amerika Syarikat ingin merampas aset USD1 Billion milikan pegawai 1MDB. Namun, tiada sebarang tindakan terhadap Ahli Parlimen UMNO itu yang lebih teruk daripada "mulut gatal"!
Bukankah ini pilih kasih atau double standard?
Malah, apabila pemimpin DAP, Karpal Singh, meninggal dunia pada April 2014, bekas pemimpin Perkasa, Zulkifli Noordin telah menulis tweet: "Dalam keadaan kemelut kerajaan PAS Kelantan mahu melaksanakan hudud dengan bantuan Umno, Allah telah matikan Karpal yang menjadi penentang utama pelaksanaannya!"
Tetapi tidak ada sebarang tindakan dikenakan terhadap penulis tweet tersebut. Inilah yang menjadikan pelaksanaan dan penguatkuasaan undang-undang di Malaysia semakin tidak adil kerana berlakunya double standard yang jelas lagi terang. – Roketkini.com
Teach our girls what is rape...
Over last weekend, the newspapers reported two horrific stories about rape, both involving underaged girls.
In one case, we were told that four teenage boys had gang-raped a 13-year-old girl, in a hut, in an oil-palm plantation in Kampung Manong, Ayer Hitam.
When some villagers came upon the group, two boys fled on a motorcycle, leaving behind two teenage boys, aged 14 and 15, with the victim. They tried to hide behind a tree, but were eventually caught by the villagers. The victim's father has since made a report at the Ayer Hitam police station.
The boys were caught around 2 pm on Thursday, 15 September. Did this incident happen during the short school break between Hari Raya Haji and Malaysia Day? Did the parents know the whereabouts of their daughter? Did the girl know the boys? Had she been led there under false pretences and was she a willing victim?
The second story is about a Sarawakian man, and it echoes the story of the 78-year-old Austrian called Fritzl, who enslaved his daughter, Elisabeth for 24 years, in Amstetten, before she was rescued. Fritzl was jailed for life in 2009 for rape, incest, enslavement, neglect, and murdering one of his children.
A 16-year old Sarawakian had travelled from Lundu in Sarawak to visit her father, in Kuala Lumpur, because she wanted to lodge with him, whilst she received further education in the city. The 38-year-old man lived in a flat in Chow Kit Road.
She was raped on the night she arrived. Over the following few weeks, he repeatedly raped her, attacked her with a hammer, and partially strangled her or threatened her with a knife, to force her to have sex with him, and to warn her to keep silent about his evil deeds.
The sad thing is that the girl arrived in KL on 26 August and her neighbours did not hear her screams for two weeks. They immediately alerted her mother, in Lundu, who lodged a police report on 8 September.
The father, who sold religious text books for a living, was caught. When the girl was rescued, she was bruised and cut, and rushed to hug a policewoman, who was part of the rescue team.
The victim's father denied that he had forced his daughter to have sex with him, and claimed that he "hugged his daughter to cure her of her home-sickness."
Why did it take the police another week to rescue the victim? The mother must have given the girl's address to them, when she made the report.
So, why was there a delay? This poor girl's ordeal could have been over more quickly.
The girl was working at a nearby shop, which was close to the Chow Kit police station, to help support herself. Having been beaten and physically hurt, she was so traumatised and fearful of her life, that she failed to lodge a police report.
The two stories of rape, over the weekend, should make officials at the relevant ministries revise their plans to introduce sex education only for boys.
What is the point of only giving sex education to boys? Girls need sex education just as much as boys.
They need to know that if they are raped, they must report it, and not suffer in silence.
Many girls are not only afraid of repercussions, but they are also afraid of the social stigma and of being blamed.- Mariam Mokhtar
Dalam senyap2 pahlawan kita Najib Razak kutip GST ke atas bekalan air ke rumah pangsapuri (maksudnya flat), masjid, rumah kebajikan. Kalau kena potong, bila sambung balik kena bayar GST
cheers.